30% Off Take Out and To-Go Beer 3- 8 pm
Published: March 17th, 2020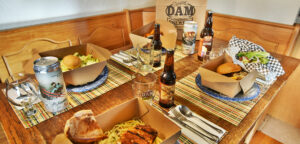 Because we do give a DAM about our customers and staff, we have decided to offer 30% Off Take Out and To-Go Beer.
Call in with your order and we will give you a time for Curbside Pickup.
Stay in your car. Park anywhere in our lot. We'll call you when your order is ready! Follow our drive-by signs with instructions.
Burgers, Appetizers, Salads, Pub Favorites, Desserts, Kids Menu— Six-Packs, 22 oz Bombers, Crowler Cans, Growlers, Kegs — All Your Favorites and the best comfort food we can offer will be available To Go from 3-8 p.m. daily.
Click here to see the whole DAM Curbside Menu
Our kitchen is fully stocked with food and our beers are chilling — just waiting for your arrival.
Changes are happening quickly and we will keep you informed.
Thanks so much for your Dam support. We hope we can make this time easier to bear with DAM good food and beer.