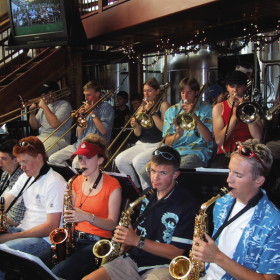 Wednesday, May 24th - 6:00-7:00 pm
Summit High Jazz Band
The Dam hosts the Summit High Jazz Band for a fundraiser performance. Plus its Happy Hour from 3-6 p.m. with 1/2 price apps and $3 pints. Come a little early and take advantage of Happy Hour, get a good seat and support these great performers. Stay for dinner and get 30% Off Pub Dinners.
Friday, May 26th - 4:00 pm
C-Rock – The Best Dam Rock – 103.3 Launch Party
KYSL Radio is launching a new classic rock station – C-Rock 103.3 – playing the Best Dam Rock and featuring bands such as Aerosmith, Zeppelin, The Stones, Pink Floyd and more. The celebration is from 4-6 PM on Friday, May 26. The whole C-Rock, KYSL and Streamin' 93.1 staff will be there to host wacky contests. Win tickets for Blues Traveler, the Breck Music Festival, Cider Circus and the Vail Craft Beer Classic; plus Dam Brewery gift certificates, Silverthorne Rec Center 20 punch and 1 month passes and more! Enjoy 1/2 Price Appetizers, $3 Pints and try the special Custom C-Rock Cocktail from 3-6 p.m.