Thursday, Nov 15th - 8:30 pm
Far Out- TGR's New Film
Don't miss the Premiere of Far Out, Teton Gravity Research's new film. Get ready to shred this season with intense/incredible skiing and snowboard footage and awesome music. Check out the trailer here. $8 bucks at the door includes a raffle ticket. Win a pair of Volkl 90 Eights from our good friends at Christy Sports. TGR says, "Far Out embodies the imagination as much as it does a physical space. It is the quest to seek out undiscovered realms. It is the quest to be blown away. Join the TGR crew on one of the most remote and unexplored mountain ranges on the planet, the Albanian Alps. Witness mind-bending pillow lines in the Purcell Mountains of British Columbia; the insanity of the Crazy Mountains in Montana; the Slovenian Alps for over-the-head cold smoke; the alien landscape of Girdwood, Alaska and Sean Jordan ride into Crested Butte on a black stallion to shred the Southern Rockies. Find out if the wildest and most untamed mountains in Europe let us in, and if the ultimate destination became a reality." Presented by our fun neighbors – REI.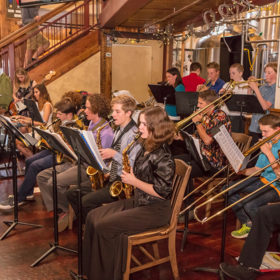 Wednesday, Nov 28th - 6:00-7:00 pm
Summit High Jazz Band
The Dam hosts the Summit High Jazz Band for a fundraiser performance. Plus its Happy Hour from 3-6 p.m. with 1/2 price apps and $3 pints. Come a little early and take advantage of Happy Hour, get a good seat and support these great performers. Stay for dinner and get 30% Off Pub Dinners.
Thursday, Dec 6th - 8:30 pm
Ode To Muir — Premiere of TGR and Jeremy Jones New Film
Teton Gravity's film Ode To Muir pairs professional snowboarder, adventurer and founder of Protect Our Winters Jeremy Jones with two-time Olympian Elena Hight as they embark on a 40-mile foot-powered expedition deep into California's John Muir Wilderness. Their journey balances the challenges of winter camping, grueling climbs up the Sierra's biggest mountains, and aesthetic first descents with personal reflections on the importance of the natural world and those who first traveled it generations ago, and sharing perspectives gleaned from what it truly means to explore a great American Wilderness. See the trailer here Open mic hosted by Levi Corrigan follows the movie! And it's Ladies night with free half-pints for ladies and $3.25 pints, fireball and Jager from 9-11 pm! $7 at the Door gets you in and entered to win prizes.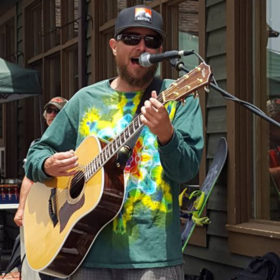 Thursday, Dec 6th - 9:30 pm
Free Open Mic Night
Free Open Mic Night hosted by lead guitarist Levi Corrigan of High Five. Great local musicians drop in. For musicians 21 and over. And its Girls Night Out with free half-pints for ladies from 9-11 p.m. and $3.25 pints, lager and fireball.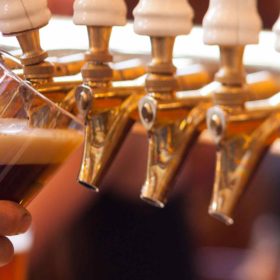 Tuesday, Dec 11th - 5:00 p.m.
Tap It Tuesday
5 Gallon Keg of the Brewmaster's Special Stash tapped at 5 p.m. $5 Half-Pints While They Last. Dec. 11 – TBA